The Ekiti Gubernatorial Election as Progress
Articles/Opinion, Latest News
Sunday, June 29th, 2014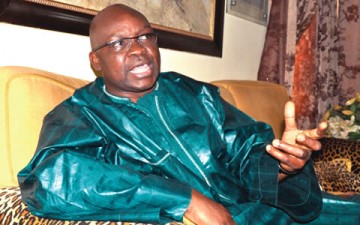 By  Ikeogu Oke
By progress, I mean that genuine sense of improvement that comes with comparing what is to what used to be, or where one is to where one used to be. And with a past in which our former President, Olusegun Obasanjo, openly declared the 2007 presidential election "a do or die affair", and with the election-related threats recently flung at our national consciousness by various leaders of the All Progressive Congress (APC), the peaceful conduct of the June 21, 2014, gubernatorial election in Ekiti State is a major index of political and moral progress for the Nigerian state.
As if to complement the "do or die" declaration by former President Obasanjo, Chief Bola Tinubu, the APC leader, as reported in a publication on page 60 of Saturday Sun of June 14, 2014, had said: "They are already planning to rig elections but we are ready to protect your votes… It is going to be rig and roast. We are prepared not to go to court but to drive you out…"
As if Chief Tinubu's prediction of electoral malpractices and promise to respond by roasting vote riggers was not chilling enough, Mallam Nasir El-Rufai, another APC chieftain, was quoted in the same publication as having said: "The next election is likely to be violent and many people are likely going to die. And the only alternative to get power is to take it by force…"
So not only can we compare what happened in Ekiti to the "do or die" era of election conduct where, having made the threat, President Obasanjo made good his word by delivering an election that was marred by massive irregularities even by the admission of the candidate declared winner, the late President Umaru Yar' Adua who, ironically, still went to court to defend what therefore amounted to an underserved mandate.
We can also compare the Ekiti election to a scenario where, going by the said utterances of Chief Tinubu and Mallam El-Rufai, some of our leaders expect us to be headed as a nation with regard to elections and their outcome. That destination, as it were, is a situation characterised by massive vote rigging and other serious electoral malpractices and response with violence by those who feel cheated by such irregularities, as evidenced by the APC's pledge not to seek redress in court but to take the law into its hands by implementing a "rig and roast" policy that hints at a plan to burn suspected electoral offenders as an alternative to electoral litigation.
In passing, I have wondered if, in enunciating the "rig and roast" policy and in declaring that "we are prepared not to go to court", Chief Tinubu gave any thought to the implication of such utterances for a leader who is proposing his as an alternative leadership platform to what we currently have, especially in comparison to President Goodluck Jonathan having once declared that his election is not worth the shedding of anyone's blood? It prompts one to wonder if those who speak like the APC leader believe any nation of peace-loving people would prefer any leader who sees violence as a proper route to power to one who does not.
But Ekiti must have surprised even such prophets of electoral violence; what with the rare grace exhibited by the loser and incumbent Governor, Kayode Fayemi, by conceding victory to his opponent, Ayo Fayose, and the general acclaim the election has received for being free, fair, and devoid of violence. And having not roasted anyone in connection with the election as it vowed to do in response to vote rigging, the APC has invariably conceded that it was free of rigging.
My mission in this piece, however, is not to condemn the APC for advocating electoral violence as evidenced by Chief Tinubu's "rig and roast" policy, though I expect anyone who associates good leadership with civil utterance and conduct to be shocked by the policy and the behavioural pattern its advocates, even as an antidote to vote rigging – a wrong we generally agree should be abolished from our lives as Nigerians which, as the Ekiti election has proven, can be eliminated without recourse to violence.
Rather, my mission is to urge us to look at Ekiti and see that there is hope for a better Nigeria. That that better Nigeria can be built by Nigerians, since the Ekiti election was not conducted by foreigners, and any role non-Nigerian elements like international observers might have played in the election was insignificant compared to the roles played by the Nigerian government and institutions like the Independent National Electoral Commission (INEC) an the security agencies to ensure its proper conduct.
It is also to urge us to see how the doomsday prediction that our country would disintegrate come 2015 can be compared to the prediction of electoral violence prior to the Ekiti polls. And that such prediction, like the one of electoral violence, cannot come true if our people, government and institutions conduct themselves responsibly, as in the Ekiti polls. That, in all, our destiny is in our grasp.
It is equally to urge us to forgive those who advocate violence as a means of gaining political power, who may have been sobered by the Ekiti experience and the attendant lesson that Nigerians can conduct themselves so well as to deflate their negative intent and expectations.
Oke, a writer, poet, and public affairs analyst, wrote from Abuja.
Short URL: https://www.africanexaminer.com/?p=13665