2023: Peter Obi Is Best Choice For Nigerians –The Economist
Featured, Latest News, News, News Across Nigeria
Sunday, February 19th, 2023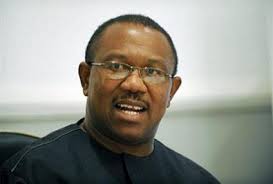 (AFRICAN EXAMINER) – The Economist has stated that the Labour Party (LP) presidential candidate, Peter Obi, is the best choice for Nigeria.
 The publication in a recent article titled 'Nigeria desperately needs a new kind of leadership', stated that Obi x-rays the country's failings with more precision than his rivals.
However, the London-based newspaper stated that the former Anambra governor has not done much at explaining how he intends to fix the problems.
"Obi, a sprightly 61-year-old former state governor who is leading in the polls, offers an alternative," the article read.
"Most strikingly, he has urged people not to vote along ethnic or religious lines but to favour competence.
"Should they do so, it would mark a radical shift in Nigerian politics. He has also warned his supporters they should expect no money in return for their votes.
"Obi talks of supporting business, freer trade, and getting a grip on Nigeria's mounting debts. He diagnoses the country's failings more precisely than his rivals, though he is not much better at explaining how he would fix them. His promises to scrap the staggeringly wasteful petrol subsidy and rationalise the central bank's many exchange rates are echoed by his opponents.
"Obi is not entirely a new broom. He was Abubakar's vice-presidential running-mate in 2019 before switching parties. He has faced questions over undeclared offshore assets. (He says he earned the money in question before he took office as governor.) Even if he wins, his Labour Party is very unlikely to gain a majority in the national assembly, so governing will be hard.
"But he is the only candidate to offer Nigerians much hope of change. In a country that has been badly and repeatedly failed by its leaders, he is easily the best choice."
The Economist stated that Nigeria has been cursed with bad rulers however Obi, a third-party presidential candidate, offers a measure of hope.
"Africa's most populous country is in desperate need of it (hope). The economy, the continent's biggest, bursts with youthful potential — half the country is 18 years old or younger," the newspaper said.
"A flourishing Nigeria would boost the whole of Africa. Instead, it is dragging it down.
"Nigerians are poorer now than they were in 2015, when the outgoing President Muhammadu Buhari, took over.
"At least 60m (and rising) survive on less than the equivalent of $2.15 per day. Buhari's protectionist policies have made things worse.
"In addition, the country is beset by violence."
Short URL: https://www.africanexaminer.com/?p=85404