American Rapper Apologizes For Shooting Music Video Inside Ghana's Presidential Villa
Entertainment, Latest News
Wednesday, January 11th, 2023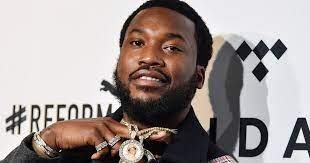 (AFRICAN EXAMINER) – Popular American rapper, Meek Mill he has apologised to Ghanaians after he received heavy criticism on social media after clips from his recently released video contained frames of the Ghanaian presidential villa emerged online.
African Examiner recalls that Meek Mill was in Ghana last year December where he headlined the Afronation concert.
During his stay in Ghana, Meek Mill visited the presidential villa where he met with the Ghanaian president, Nana Akufo-Addo. In the visit, Meek Mill shot some scenes inside the presidential palace, and these scenes were used in his promotional video.
The video sparked criticisms from Ghanaians who expressed their displeasure on Twitter as they described his actions as disrespectful.
Reacting, Meek Mill took to his Twitter account to apologize to the people of Ghana for any displeasure his action might have caused adding that his action was inspired by his desire to appreciate the culture.
"My apologies to the people if any disrespect! We still gonna push to make the connection between black people in America and Africa … what I'm trying to do is more than a video and you should see coming soon! My apologies to the office also!" The tweets read.
The rapper also deleted the video adding that he intends to continue uniting African Americans and Africans through his music.
Short URL: https://www.africanexaminer.com/?p=84461