ANALYSIS – Yahya Jammeh: The 'Old School' Power Drunk
Featured, Latest News, News Features/Analysis
Friday, January 20th, 2017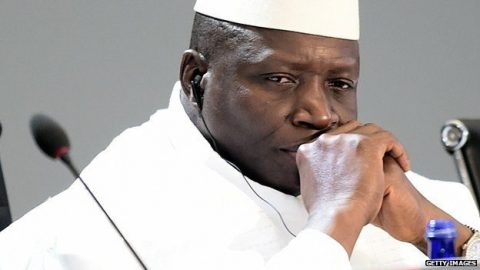 By Tajudeen Balogun, Head, African Examiner, Nigeria Bureau
BALTIMORE, MD (AFRICAN EXAMINER) – Everything in human's life keeps changing. Apart from death, another reality of life which man must appreciate and compulsorily live with is that the mentality and the way of life of people will keep reacting to what is trending in the society. But those who failed to acclimatize for reason (s) best known to them and instead, stick to the old, hard; crude and narrow thinking are mostly regarded as 'outcasts' and at another level, labeled as 'old schools'.
Consequently, the 'unrepentant' – the primitive ones are left alone and subsequently later suffer from the effects of their failure.
Economy and politics are changing from one country to another, as well as within the regions. For instance, despotism and sit-tight syndromes might be fashionable in Africa about two decades ago, but definitely not now.
Perhaps, if the just ousted and former Gambian President Yahya Jammeh had faced with the reality, especially as relate to the emerging African political trend, he would have saved himself the humiliation and embarrassment, as well as freed his poor country from the tension and relative political instability.
Without any doubt, former President Jammeh is one of the few of his likes – who still occupy the seat of power in the African continent. The ex-President has been unnecessarily carried away, forgetting that the political drift in the region has advanced. Poor Jammeh, I assume, must have calculated that over time, he would get the support of the fellow regional helmsmen in addition to the home solidarity, therefore, would thrive in his mischief and eventually have his way for another term in office.
I pity the man who conveniently, while in power, found joy in clutching in his hands a copy of Quran and prayer rosary (whatever that means) failed to realize that in Africa, the constitution and people's wish are gradually becoming significant more than personal desires.
If Yahya Jammeh had not failed in the instances mentioned here, he would definitely not have first accepted defeat in his country's last Presidential election, which was conducted December 1, 2016, but later reversed and began to question the authenticity and credibility of the exercise, narrowly won by his rival Adama Barrow.
Even if Jammeh was right in his rejection, definitely, it should not have been to the extent of clinging on to power, despite the appeals and mediation for a change of mind, by the ECOWAS Heads of Government who were persistent in warning that the constitution and wish of the people must be respected.
One good example here is the last US Presidential election and its outcome. As we speak, it is almost more than being real that the election was manipulated to favour the eventual winner, Mr. Donald Trump. Still, the outgoing President Barrack Obama, never threatened to stay in power, rather, his hope lies in the system – the institutions to take care of all that might have gone wrong during the poll. For the US politicians, the interest ultimately is about the country, not personal, as we have in most cases in Africa.
Jammeh is a typical power-drunk Leader as well as a like dreamer. Pity him; the former President even failed to understand the simple hand writing on the wall. That for him, as an incumbent Head, to have re-contested an election and lost was a clear case of failed popularity test. Again, that the immediate past Ghana's President John Mahama who was being drafted in the regional leadership mediation team was meant to send a strong message to him and in a way, to 'blackmail' him. But Yahya Jammeh was so desperate; so much that he could hardly reason carefully and objectively in this direction.
What actually gave Jammeh the audacity to have vowed that he would contest the Gambian Presidency millions of time and won and why his dictatorship regime has come to an end so soon, is another strong message to the African political office holders and those who are still aspiring for the same.
In 22 years of Jammeh in power, has Gambian economy fared better? What is the per capita income of an average Gambian? I doubt any positive reply.
Historically, Gambia is the smallest country on the African mainland. It stretches 450 km along the Gambia River. Its 11,285 sq. km area is surrounded by Senegal, with the exception of a 60 km Atlantic Ocean front.
The country has a population of 2 million people, with a fairly high average rate of growth of 2.8 per year over the last decade. And with 177 people per square kilometer, Gambia is considered one of the most densely populated countries in the entire African continent.
Economically, an overview published by the World Bank in October 2016, indicated that between 2013 and 2016, Gambia's ''real per capita GDP was estimated to have fallen by 20 per cent, suggesting an increase in poverty levels''.
Given the mentioned facts, why did Jammeh at this time think he must remain in power by all means? This is regrettable and disturbing. And I laughed. I said this because it is only in Africa that construction of roads and provision of other social amenities are still used as election campaign tools; it does not really matter, the non-correlation between the people's earnings and their standard of living. Africa still has a long way to go. But we must grow over this crude way.
Many analyses have been made with regards to why Mrs. Hilary Clinton and the Democrat lost in the last US Presidential Election. Interestingly, none of the comments was about the availability or otherwise, of water; good roads; housing; social welfare, telecommunications and other basic public social services. Most of the times, Americans, apart from the critically minded, who focus on the country's foreign policies and the state of her economy, just vote for fun – sometimes just to have a change of the political party.
So what happens when African politics advances to the same level – when the conventional variables to canvass for votes are no more catching or impress people to seek for their votes? In the case of Jammeh, he even failed to pass the fundamental test – to making life more meaningful to the Gambians, yet, allowed to re-contest; but lost the election, still, desperate to be in power! It is indeed shocking and worrisome.
Yahya Jammeh's desperation and love for power is unmistakable. Despite being left by not less than eight of his Ministers at the twilight of his tenure, the former President's indifference to the terrible political situation which surrounded him, was an indication that despite still being young somewhat, he is not 'refined', thus the blood of the old and crude African politicians still runs in his veins.
But whether Jammeh likes it or not, he must vacate the seat of power. Among the lessons in (Jammeh's power tussle) for the African Leaders is that any of them who is still being tutored on the need to be focus; creative and productive in the public service delivery while in office, must have his head critically examined. Most significantly, such leader must be ready to receive his red card as at when due. Former Nigerian President Goodluck Jonathan and his Ghana's counterpart, Mahama are good examples here.
That goes for failed Leaders. Even if a President is generally considered as being successful, once he is truly or otherwise, voted out by people and the winner is announced, he must respect the system and avoid resorting to self-help. I mentioned earlier despite that the last US poll was allegedly hacked; Obama will leave the White House for his controversial successor, Trump. However, if the Democrat or Mrs. Clinton had wished, they would have resorted to legal action, not deploying shortcut or manipulation, which will later provoke tension and worry among the citizenry. This is what Yahya Jammeh's action symbolizes.
Finally, if Jammeh refuses to be humble and reasonable, as well as maintains the negative posture, as if the Gambian Presidency is his birth right, he must be told that he and his handful supporters will personally bear squarely, the consequences of their actions. Jammeh must remember the list of despotic African leaders and what eventually became of them. Among them were late Samuel Doe of Liberia, late Mobutu Sese Seko of now Democratic Republic of Congo and Late Egyptian President Hosni Mubarak. Other examples are: Teodoro Obiang Nguema Mbasogo, the President of Equatorial Guinea and José Eduardo dos Santos, President of Angola among others. The Leaders were power-drunk; corrupt, brutal and served their countries for long period of time. But in the end, the first three were variously ousted out of power and later died. Yahya Jammeh must be told again that 'no condition is permanent' – so, he should realize that his time is up; so he must go home allow peace to reign in Gambia!/AFRICAN EXAMINER
E-mail: tjaysuccess10@gmail.com; Twitter: @tajudeen Balogun; Facebook: Tajudeen Balogun; Skype: tjaysuccess10@gmail.com
Short URL: https://www.africanexaminer.com/?p=37635