Cashless Policy, Elections Affected Enugu International Trade Fair Adversely- ECCIMA
Business News, Latest News
Thursday, April 6th, 2023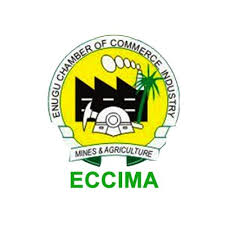 (AFRICAN EXAMINER) – The Enugu Chamber of Commerce. Industry, Mines and Agriculture (ECCIMA), said the Cashless Policy affected the just concluded 34th Enugu International Trade Fair adversely.
Speaking at the closing ceremony in Enugu on Wednesday, ECCIMA President, Mr Jasper Nduagwuike, said that the 2023 general elections also contributed to the low turnout of exhibitors.
Nduagwuike, represented by the First Deputy President, ECCIMA, Mr Odega Jideonwo, said that against all odds and bizarre challenges, everything went successfully.
He said that election years were usually with challenges, adding that the 2023 general elections were compounded with the misadventure of an "ill-conceived, very poorly executed naira redesign and the cashless policy syndrome."
"The result is there for all to see. Anyway, I believe that in spite of all these, deals have been sealed, relationships created, and proper networks established.
"So, dear friends, the fair ends today and I must give my unreserved gratitude to the Nigeria brewery Plc, Dangote Industries Ltd, and Universal Insurance Plc who stood by us as sponsors.
"To all the exhibitors, I can't thank you enough. We have indeed come, seen and conquered. Things can only get better," he said.
The president also thanked all those who travelled the route with them, saying, "You believed in us, you shared our pain, you stood by us in the fair."
Nduagwuike said he was aware that the fair did not meet the expectations due to some circumstances beyond the chamber but promised more resounding trade fair next year.
Thanking the participants also, the Vice President, Trade Fair, Mr Nonye Osakwe, said the chamber appreciated the effort of all the participants.
He assured them that the next year fair which will be the 35th edition would be much better.
The fair, which commenced on March 24th, 2023 saw Dangote Group of Companies and the Nigerian Breweries PLC coming tops for their sponsorship and active participation throughout the fair.
The News Agency of Nigeria (NAN) reports that the  trade fair which was scheduled to end on April 3, was extended by two days due to Mondays' sit-at- home in the South East.
NAN also reports that some companies and business owners both within and outside Nigeria as well as Federal Government agencies attended the fair.
The theme for this year's  Enugu Fair was "Harnessing Nigerian Human Capital Resources for Global Economic Advancement".
NAN also reports that there was relatively low turnout of participants at this year trade fair when compared to previous ones.
The highlights of the event include dance and presentation of Certificate of Participation and Sponsorship to companies. (NAN)
Short URL: https://www.africanexaminer.com/?p=86839