If Elected President, I'll Finish What Buhari Started – Osinbajo
Featured, Latest News, News Across Nigeria
Monday, April 11th, 2022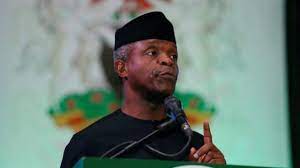 (AFRICAN EXAMINER) – Vice-President, Yemi Osinbajo, has stated that if he is elected president, he will complete the works which President Muhammadu Buhari began.
Osinbajo disclosed this when he announced his intention to run for office of the president on Monday adding that his plan is to establish the "Nigeria of our dreams in a few short years".
"I have spoken to small and large businesses. I stood where they stood and sat where they sat. I know their hopes, aspirations and fears; and I believe that those hopes and aspirations are the seeds for the great Nigeria that we all desire," he said.
"I believe that the very reason why the Almighty God gave me these experiences, these insights, and these opportunities, is that they must be put to the use of our country and its great peoples.
"Which is why I am today, with utmost humility, formally declaring my intention to run for the office of the President, Federal Republic of Nigeria, on the platform of our great party, the All Progressives Congress."
According to him, he would focus on creating a tech economy, lifting 100 million out of poverty and security, among other areas.
"Above all, front and centre of our efforts will be the provision of jobs and opportunities for our young people," he said.
"I now most solemnly and respectfully seek the support of fellow Nigerians everywhere in this land, and the diaspora, young and old, male and female, in the great and exciting journey that we have ahead of us."
He added that Nigerians should unite and have a country "where all are treated fairly, justly and with respect".
However, some critics have taken to their social media accounts to berate the Vice President saying that he has been in government for seven years and there is nothing to show for it. Also, Reno Omokri, former spokesman to former President of Nigeria, Goodluck Jonathan, described the statement of Osinbajo as watery as he took to his social media account to blast the former Attorney General of Lagos State.
Omokri write: "Osinbajo's declaration speech was watery. He says he is running to "complete the task" that Buhari started! Buhari stated extreme poverty and overwhelming security for Nigeria. If Osinbajo is running to "complete" that task, then he is running to destroy Nigeria!
"Osinbajo's declaration speech was emptier than Buhari's WAEC certificate! He talked for almost 7 minutes and could not name one tangible achievement. Only promises. After 8 years. Name one promise and its fulfilment from that speech, and I will pay you $1000.
"Dear Osinbajo Supporters, No argument. No quibbling. Just quote from Osinbajo's declaration speech one specific promise he made in 2015, and that he fulfilled in 2022 or before, that was included in his speech. $1000 for you if you do. I am eagerly waiting!
"Can you name a specific achievement Osinbajo listed in his declaration speech and get $1000? Not promises. I refer to achievements. For instance, 'I promised this in 2015, and I delivered this in 2022'. I need one Osinbajo supporter to respond and get $1000."
Short URL: https://www.africanexaminer.com/?p=75643