Opinion: The Hypocrisy In Sallah Homage In South East
Articles/Opinion, Latest News
Sunday, July 19th, 2015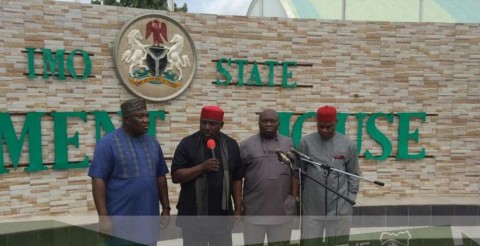 By Muhammad Ajah – It pains and true patriots writhe in fury when we talk of Nigeria's unity and secularity, but governors of the South East continue to marginalize the Muslims and institute overt political exclusion against them. That is why one may need to query the relevance of the Muslims' visits to the governors every Muslim festival: Eidil-Fitri and Eidil-Adha. Is it just to meet the governors and repeat the old stereotyped messages of praising them, and receive in return a token sum of between one hundred to three hundred thousand naira from the governors? Or is it to go to government houses to thank the governors for gathering all the Muslims of their states in the Muslim Pilgrims Welfare Boards, after sharing other positions: commissioners, special advisers/assistants and directors of state agencies to their non-Muslims of the states?
This trend has persisted and Muslims of these states have been overwhelmed by the injustice meted against them in their own fatherland. After every political dispensation, the only compensation for the Muslims of these states is the Hajj Board, nothing more! Is it what is obtainable in the core northern states where Christians are in minority like the Muslims in the South East and South-South? Never! Christians occupy high political positions in the northern states where governors are Muslims. What is the truth in the media proclamations by the governors of these South East states that they preach peace, unity and religious tolerance? Are there no qualified Muslims in Abia, Anambra, Ebonyi, Enugu and Imo state who can be commissioners, special advisers and directors in their state parastatals and agencies?
Inasmuch as one would not urge the discontinuation of sallah homage to the governors of these states, because at least it is a clear evidence that the governors are aware of the existence of Muslims in their respective states, one is forced to strongly believe that the visits have not yielded any political change and commitment on the part of the governors. Promises are made to the Muslims during the visits for mere publicity and image boosting on religious tolerance. But such promises are never fulfilled. Sometimes, the governors would only delegate their deputies or secretary to the state government to receive the Muslims, so that by the time the visiting Muslims recall the past promises made to them by their governments, their host would claim ignorance and so it is buried.
While in the field journalism, I was privileged to attend many of these sallah visits in states of the South East and South-South. I was able to conveniently convince myself that it was the apex of hypocrisy on the part of these governors and mockery on the Muslims. Except for few states like Rivers, Edo and Abia where their past governors showed certain level of love and humanity to their Muslim citizens, the story has been sourly for others. Former governors Peter Odili, Orji Uzor Kalu, Chibuike Rotimi Amaechi and present Adams Aliyu Oshiomhole did something, though not their best, for the Muslims of their states.
The 2015 general elections are over, but the trend has continued even worse than before. Yet these governors would go to Abuja and hold talks with their Muslim governor counterparts of the north and claim that they are advancing religious tolerance, unity and political inclusiveness in Nigeria. Governor Dave Umahi of Ebonyi state has 18 commissioners and 27 special advisers. No single Muslim is in the cabinet. Governor Rochas Okorocha who is believed by many Nigerians to be a non-religious bigot and a detribalized patriot has no Igbo Muslim as commissioner in his cabinet. He has even tactically frustrated the operations of the only board that all the governors of states of Eastern Nigeria gather the Muslims of their states to fight over, Hajj Board. It is called Adhoc-committee in Imo state, with members and little or no funding.
As for Governor Okezie Ikpeazu of Abia, he may well tow same old path of his immediate predecessor. And Governor Willie Obiano cannot do the opposite because Anambra can be described as one of the strongest opposition to the existence of Igbo Muslims in Igbo land. But Governor Ifeanyi Ugwuanyi (aka Gburugburu) is yet looked upon. Gburugburu in Igbo language implies comprehensiveness or all-inclusiveness, meaning that the governor is for Enugu citizens, Christians and Muslims.
Nonetheless, these governors may claim they do not have qualified Igbo Muslims in their states for appointments into their state cabinets. If not, what is the actual reason for the tactical political exclusion of Muslims from their cabinets other than religious antagonism? It is surely not political party differences because although political bigwigs in the region regard the All Progressives Congress (APC) as northern party (Boko Haram party), there are many Igbo Muslims who fought with their state governors under PDP at least for their state governor, though they may have voted APC at the President polls.
For the avoidance of doubt, I have continued to repeat that every state of the five states that make up the South East geopolitical zone of Nigeria has very qualified Muslims who can handle any political position of trust in their states, in Nigeria and in the world. They are Nigerian citizens with reputable origins and they have obtained degrees in all fields of life endeavours from reputable universities and educational institutions across Nigeria and the world. This writer is from Ebonyi state and his readers cut across the breath and length of Nigeria and the world. There is hardly, I repeat hardly, any local government of the South Eastern states where a Muslim cannot be found. Investigations are urged for this claim. This trend of denying them to compete in the political arena at all levels of governance in Nigeria should be discontinued by Nigerian compatriots at the corridors of power.
Governors of states of Eastern Nigeria must change the ugly trend of excluding their Muslim political associates from positions or recommending them for federal appointments. If they do not change, then they should stop parading themselves as agents of change. They should then count themselves as the real religious bigots which they accuse others of being. They cannot claim to be proponents of national integration and harbingers of religious tolerance when they individually and collectively deny their citizens of appointments on the grounds of religious discrimination, stigmatization and antagonism. Have they not heard of Christian commissioners and ministers from core northern states where governors are Muslims?
When sallah celebrations come, that is the only period they grant audience to the Muslims of their states. The security outfits would even request for the speech to be presented before the governor. They may select very few that will finally make the visits, so that the praise singers will made the list for publicity. Then after praising the governor and his government for what both have actually not done for the Muslims, a paltry sum of maybe N100,000, N200,000 or at most N300,000 will be given out to the large crowd of visitors to fight over and go home with N500 each. That is all and the sallah would be recorded to have been celebrated by the governor with the Muslims of his state.
In the whole Eastern Nigeria, sallah homage to governors has had no significant effect on the lives of Muslims in their respective states. But due to the high level of poverty and want amongst the Muslims of the area, save the residents of businesslike, whatever little money that they get from the government house on the sallah day is not rejected.
Throughout the opportunities I had to join the Muslims on sallah visits to their governors in the South East and South-South, I can recall the audacity with which the late Rivers state Muslim leader, Chief Alhaji Ahmad Okiri tutored former governor Dr. Peter Odili, sometime in 2005, on religious tolerance and the need to carry Muslims along in political appointments his government. Odili who was recognized for his generosity, refused to do the opposite. He merely increased his sallah gift instead of the main demand the Muslims made – inclusion in political appointments, not only Hajj Board. That is how it has been. Even in Edo state which has the largest population of Muslims in the South East and South South, the former governor Chief Lucky Igbinediom denied the Muslims of his state until I made an investigation on denial of fundamental human rights of Muslims in the state during his regime.
The question that remains unanswered is when the governors of Eastern Nigeria will begin to realize that their tactical exclusion of Muslims from political appointments in their states is basically on their hatred for Igbo Muslims. Islam is a universal religion, just like Christianity. Islam cannot be extinguished in Eastern Nigeria, just as Christianity cannot be abolished in Northern Nigeria. Islam is not new in Eastern Nigeria, just as Christianity in not new to Northern Nigeria. Muslims are in minority in Eastern Nigeria, just as Christians are in minority in Northern Nigeria. Therefore, for any politically elected or appointed government official to attempt to frustrate freedom of religious affiliation or freedom of association in Nigeria, under whatever guise, tantamount to constitutional breach to which they swore to uphold, and definitely a revolution against divine law which must be resisted by well-meaning compatriots.
This trend of political exclusion of Igbo Muslims in their own states is a calculated ploy by the governors to frustrate the Muslims from their religion. Unfortunately in this 21st century which has exposed knowledge of every bit of human existence and attachments, the governors and the Igbo nation still query why an Igbo man should accept Islam which they regard as Hausa religion. Very unfortunate! Very disheartening! And indeed very frustrating!
Let there be peace and understanding in Nigeria. Let the governors of Eastern Nigeria resist the temptation of concealing in their minds that Islam is a Hausa religion that is forbidden to the Igbo nation. Let them control the hatred which they conceal for their Igbo Muslim brothers and sisters. According to the constitution, the position of governor is supposed to be for the protection of all the citizens, the guarantee of equity, fairness and justice for all citizens and the political inclusiveness of all citizens. Igbo Muslims must not be seen as special group of Nigerian citizens who are doomed in their states and in Nigeria. Yes, they are Igbo. But they are Muslims and freedom to belong to any religion and non-violent associations is guaranteed in the nation's constitution.
Muhammad Ajah is an advocate of humanity and good governance based in Abuja E-mail: mobahawwah@yahoo.co.uk
Short URL: https://www.africanexaminer.com/?p=24481