Sam Omatseye Under Fire For Posting Fake Photo Of Tinubu's Location
Featured, Latest News, News Across Nigeria
Thursday, April 13th, 2023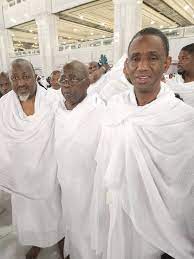 (AFRICAN EXAMINER) – Some Nigerians on Twitter are venting their spleens on Sam Omatseye, the chairman of The Nation Newspaper's editorial board and ally of the president-elect after he posted a fake photo of Tinubu and President Buhari.The African Examiner recalls that after the election, president-elect, Bola Ahmed Tinubu, left Nigeria on March 2022 to rest and perform lesser Hajj. However, there were rumours that the former Lagos State governor could also use the opportunity to attend to his health.These rumours have made some Nigerians inquire about the whereabouts of Tinubu.
Omatseye, on Wednesday, yesterday, as if trying to settle the matter of the whereabouts of Tinubu uploaded a picture of the former senator and President Buhari with the caption: "ASIWAJU TINUBU. PRESIDENT-ELECT AND PRESIDENT BUHARI AT MECCA, SAUDI ARABIA TODAY, APRIL 12, 2023."
In the picture, both Tinubu was seen smiling and seating down. In the seat of President Buhari there is a coat of arms and there are fruits, and a bottle of water among others on top of the table.
However, it appears that the picture Omatseye uploaded according to netizens is not a new picture as some pointed that the picture is a 2019 picture.
The African Examiner gathers some of the thoughts of netizens concerning the issue.
@General_Oluchi writes: "Look at Sam Omatseye, the funeral director and gatekeeper of journalism putting his best foot forward—with lies! Yes, Sam is an undertaker by night too!'
@PO_GrassRootM writes: "Sam Omatseye, caught trying to deceive Nigerians with a 2019 picture of Tinubu having lunch with Buhari in Mecca yesterday. Whereby, that picture was 2022 taken by Buhari and Tinubu in Aso Rock breaking of Ramadan fast in Abuja. APC is a criminal organization with massive lies."
@Spotlight_Abby writes: "Sam Omatseye, caught pants down trying to pass off a 2019 picture as if Tinubu had lunch with Buhari in Mecca yesterday. I think they want to keep obidients talking & commenting about this. Pls shun their pages even if someone brings them to your TL. Focus on PO & say NO to BAT."
@Oserume1 writes: "Sam Omatseye you are not wise… Old shameless lying clown."
@Allezamani writes: "This is SAM OMATSEYE a supposed veteran journalist tweeting an old picture of 2019 as a current photo speaks of Tinubu and Buhari as April 12th 2023, is this how APC plan to rule Nigeria again? How did any sane person support any candidate from this party as their President?"
@Sports_Doctor2 writes: "If you're not a LIAR, you can't support the APC. Sam Omatseye, caught lying, trying to pass off a 2019 picture as if Tinubu had lunch with Buhari in Mecca yesterday. Let them keep lying, we refuse to be distracted by all these their shenanigans!!!"
@mindset_tweet writes: "Sam Omatseye and APC intentionally release Old Pictures of Tinubu to distract you. REMAIN FOCUSED!"
@ayoadegbites writes: "Sam Omatseye, caught trying to pass a 2019 picture of Tinubu breaking fast with Buhari in Saudi Arabia. They just want to keep Obidients talking & commenting about irrelevant issues. Pls focus on main issue which is the Tribunal Court Case! RETURN STOLEN MANDATE!!!."
@JackObinyan writes: "When a mandate is stolen, the coconspirators of the theft become desperate in their quest for validation. Sam Omatseye caught in the act; trying to pass 2019 photograph for 2023."
@dreyinker writes: "Sam Omatseye has started posting fake news for his NOWHERE-TO-BE-FOUND DRUG PEDDLER. He reposted an old picture and tag it as a recent picture of Bola Criminal Tinubu. A Journalist that peddle FAKE NEW."
@King_Inspires writes: "Something is definitely not right! I wonder what APC benefit in telling lies…Another era of lies loading… FRAME 1: Picture was published in May 2019 by Premium Times FRAME 2: Same picture was posted by Sam Omatseye yesterday claiming Buhari and Tinubu are in Mecca."
@v_vivilife writes: "Nigeria is full of retard old men who are bent on destroying this country completely as long as their palms are greased. They don't care about posterity. Sam omatseye is a hack journalist, so incompetent & shameless. Ekweremadu obasanjo NADECO banana Island."
@wemimospot writes: "Imagine if Sam Omatseye becomes Minister of Information! Lie lie man! Picture from 2019! He even put "TODAY, April 12, 2023" as the date. E de rora maa paro!."
Short URL: https://www.africanexaminer.com/?p=87055