SPECIAL FOCUS: My Manifesto To President Goodluck Jonathan
Featured Contributors/Columnists, Latest News
Friday, December 26th, 2014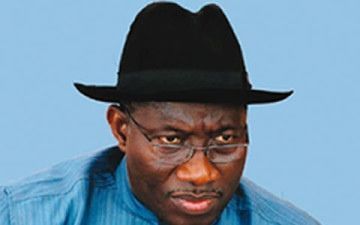 By Tajudeen Balogun, Head, African Examiner, Nigeria Bureau
(Presentation at the Manifesto Campaign)
Fellow Nigerians, it gives me greatest pleasure to address you today on this historic occasion. I present myself before you, to canvass your support as I desire to contest the number one position of our great country. I do so because we have been failed in the past and some of us who sit back, condemned and criticized have been attacked to lack ideas and even challenged to articulate our agenda. Fellow Nigerians, it may interest you to hear, that some folks ask me the other day, assume you were elected the Nigerian President for 24 hours; what would you do to turn around our dear country?
Comrades, I'm… (You know the name, I guess). I come from the State of that late political sage; of the living legendary literary icon; the same State of the late business giant and Philanthropist. In fact, I hail from the same local council area with the late African Pillar of Sports and our family houses in Egba (Abeokuta) – the Ogun State capital, are stone thrown to each other.
Se na that one go deliver Nigeria, I beg go sit down (retorted audience).
Dear ones, I am glad to inform you that my credentials – as a trained Mass Communicator and Managerial Psychologist with wealth of diverse working experience in journalism trade; business and human management, have what it takes to lead this great black country to her desirable destination. I am delighted; I have the past of diligence; efficiency; delivery; planning; honesty; a sensitive, responsive and a team player, indeed a patriotic Nigerian.
Now you are talking. These are very good score cards. But wait o, does he have heavy financial net worth? (Again the audience pressed).
Dear patriots! I pledge and promise a better and Nigeria of our dream and our late statesmen. My lean bank account and low financial net worth notwithstanding, I believe, with your support and widows mite, we shall strive, thrive and succeed together. Fellow Nigerians, I thank you all for your attention. 
You are the winner; you are the candidate; but you must step down for the big masquerade; Aspirant 'T…you must step down! You must step down for the big candidate! (Chorused the audience)
(Second Appearance)
Fellow Comrades! I really appreciate your love and trust in me. But in view of the popular demand, I hereby announce my withdrawal from the contest, yet will meet the fellow aspirant (now candidate) one on one, present and discuss with him the abridged of my manifesto for the contest and next political dispensation. Thanks again.
Now that you Nigerians have demanded and prevailed on me to pave the way for President Goodluck Azikwe Ebele Jonathan, I here present my proposed action plan to him.
SECURITY          
Mr. President, I decide to prioritize this sector because it is one area that has rattled and hauled a serious embarrassment at your administration, locally and across the shore (at least from what can be verified). An open secret for you sir. You are very much aware that the public opinion before now and up till the moment, is that you should back out of the 2015 Presidential race (although the option is already foreclosed), as one of the approaches to douse tension and most significantly to end the rampaging bloody insurgency in the country.
Hold it sir. I am as well fully aware that you are a Nigerian and so, have the constitutional right to present yourself for the job. That is the constitution. But in reality, don't you think if you did, that would have been a sacrifice to this country, on your part and will be documented for the generations yet unborn. I seriously believe it is a 'let go' that worth the salt; after all, you would have served meritoriously for good six years as the first citizen of the most populated African country. This is very key, yet, let's faces the real issue now on the table.
Nigerians believe, and I am very sure you are aware, that the dreaded the Boko Haram group, is of the various versions – has the religion, political, business and international dimensions. Therefore, your approach to resolving the insurgency squabble must be holistic. The needed actions. Mr. President, crushing your own militants (if at all they exist), of course might not be problem to you, yet for others; you must address them with courage, sincerity, objectivity and without any political bitterness. You must demonstrate a desirable and very committed passion.
It is also important that you're more prompt, sharper and smarter in your thought and disposition. I must tell you, your approach from the outset to the insurgents attack from the start of your almost six years administration is slow; not coordinated and negligible; which are the reasons why dreaded killers thrive and survive till this period. Sir, you must realize that no amount of your condemnation, condolences, the so called bogus budgetary allocation (without adequate accountability), the external loans and establishment of another para or proper military forces, will tackle the present security challenges except a sincere, objective and committed approach. In addition, there seem to be some 'elements' around you, with links to this wahala (problems), so if you failed to call their bluff, be bold and allow the law to take its natural cause against them, believe, the solution to the ruthless insurgents will be unattainable.
ECONOMY  
Mr. President Sir, there is a historic fundamental error in the Nigerian budgetary formulation, articulation and implementation. For a very long time, this country is known to run budgets which the recurrent expenditure always surpassed the capital expenditure. This is even against somewhat incommensurable capital revenue (largely due to lack of transparency and proper accounting) of the internally generated revenue (IGR) from the government agencies and establishments. And please be mindful of the price somersault presently in the global oil market and its biting tolls on the local mono – dependent economy.
The N4.3 trillion 2015 budget proposal is nothing different from the past with respect to the above paradoxical tradition. For instance, the next year budget bill provided for slashed N633.53 billion, compare to N1.552 trillion capital expenditure in the outgoing fiscal year approved budget as against the raised N2.616 trillion from the N2.468 trillion recurrent expenditures of the 2015 budgetary bill and the approved 2014 budget plan respectively. Nothing in all of these, to cheer about, given the social and economic mood as well as the source of the economy's strength – crude oil vis a vis its present pricing menace.
President sir, you should also come to terms to the ever fluctuating country's foreign reserves, which stayed at $36,263,660,000 as at 2011 and by Monday, December 21 2014, plummeted to $1.178 billion (3.09 per cent) at the end of May, while it further went down to $38.138 billion by April end as well as $36.959 billion in November this year as provided by the CBN official website. I must also draw your attention to the rising external debt profile debt ($47.653billion), N7.421 trillion of the country as at June this year. And you would agree with me that the declining state of macro economy is evident in the depreciating value of naira, with the rising dollar value.
Although, you might want to heave a relief in the fact that the next year budget proposal as presented by your Finance Minister, Dr Ngozi Okonjo – Iweala, tilts similar direction with the Lagos State's N489.69 budget, which proposes Capital expenditure of 51 per cent and 49 percent of the recurrent expenditure. Still, you must be reminded of the fact that the same State some years back till now, has an edge, as it has been recording not less than 70 per cent budget performance. This is a task and a good model for your government to adopt.This commitment is very vital, if this country must wriggle out and survive the looming harsh global season.
POWER
This is one fundamental aspect of the Nigerian economic growth. Sir, Nigerian are enraged and fed up that your party – PDP has in over 15 years, expended over $20bn on power, yet able to generate unstable 4,000MW, as we speak. Take for instance, South Africa generates 40, 000MW and neighboring Ghana enjoys stable power supply. In fact, Nigeria's power supply issue is the most strange, appalling and unacceptable, probably in the world.
My blueprint believes strongly, if this sector of Nigeria is delivered, industry will grow; more industrial investments will be attracted; SME will pick and thrive; economy will be healthier and stronger; the social life will be enabling and the country will progressively prosper. It is as simple as that. However, where your administration and previous, of your party, got it all wrong is indiscipline and lack of transparency which is the bane of the present sorry situation. So the solution is not far fetch; it is accountability and honesty. This takes me to corruption.
CORRUPTION
Mr. President Sir, kindly permit the rudeness if you are offended about my choice of words and expressions here. Sir, the age long corruption in the Nigerian government, during your administration, took more damaging and shameful twist. This social endemic became worsen in your tenure, as you once shocked the entire world with a first ever, a sweeping statement, that not all the stealing were corruption! You might not also agree with the consistent high international corruption ratings of the country, but they remain bitter facts you and your government must contend with.
So, in my manifesto, I proffer that the fight against corruption must be waged with strong political will. I hold that we do not need additional anti – graft bodies or agencies or special security outfit to stamp out this societal evil. Instead, what we need are: provision of support in the areas of financing, logistics, training, personnel and ultimately give truly, free hands to the existing anti – corruption agencies to operate. If the zero tolerance to corruption (as recently declared) by you, is acted to the letter, I confirm everyone including you, will sit tight as every aspect of the government and the public in general, will become a watch dog to each other and I can confirm to you, the country will be sanitized and it will no more be the business as usual.
EDUCATION AND ECONOMIC EMPOWERMENT
Education, in whatever form, is the bedrock of development and brighter future of a nation. Therefore, Mr. President, in my manifesto, I provide that the National curriculum of education will be designed and implemented in such a way to promote entrepreneurship, self-reliance and independence among our secondary school leavers and the University graduates as well as other able Nigerians. The motto will be: 'Every Nigerian must be productively engaged' – either via paid or self-employed jobs. Sir, I don't know if your Al – Majiri schools was so designed. If not, it must, because educating a mind without preparing it, for the practical and final empowerment, will only amount to half way task. My concept is attainable; it only takes full commitment to actualize. Let me also call your attention to the existing similar template on this. Please go to the archive and refer to the former Military President Ibrahim Babangida administration's policy on the National Open Apprenticeship Scheme (NOAS) and its sister's Graduates Small Scale Enterprise Scheme. These are laudable initiatives that will clear of the streets, many aimless and hopeless Nigerian youths and graduates and properly engage them. When this is achieved, government will be relieved of burden of engaging the unemployed, be more focused and concentrate on harnessing other potentials in other aspects of life.
Besides, my blueprint provides for free education up to the secondary school level, in the State my political party governs. Don't say this is not feasible; it has been done before by late Chief Obafemi Awolowo in the South West. In fact, some of your younger generation aides were beneficiaries of the scheme. It is also real because when corruption is effectively wrestled, the wasteful spending will be curtailed and channeled to other useful areas such as this. More importantly, my manifesto says no to political consideration in implementing these policies, rather, should capture every Nigerian, regardless of tribe, religion creed, language and other considerations. Remember, this is another serious challenge facing this country.
AGRICULTURE
Here, myself, I have put aside, my differences with Baba and go for one of his best agricultural policies, as the Military Head of State – the Operation Feed The Nation (OFN). Therefore, forget about your insubordination to him and his late lashing and castigation against your person and your office. Sir, are you asking about the Ebora Owu (a mysterious being) latest attacks against you, in his My Watch autobiography? Leave that one alone sir, adopt this policy, as I did in my manifesto and let the credit be given to him. Remember, the final destination here is a better Nigeria. The modifications with the global trends in agriculture will signal a remarkable success.
HEALTH
Mr. President, some of the Nigerian teaching hospitals by definition are very close to mortuaries as we speak. This is the reason why I stated in my blueprint that good budget will be earmarked to fund their turn around and overhauling. The packaging was made in line with the demands by the Medical Doctors in their recent nationwide strike. Remember, they requested for among others, globally standard working environment, just like their University counterparts in their last and over eight months industrial action. On pediatrics diseases, I hail your promise of ensuring polio is wiped out among the Nigerian children if at the end of your new tenure (if re – elected). Also, I provide the service bills at the Federal owned hospitals should be affordable (if can't be free) to an average Nigerian with high quality.
Mr. President, I hereby present to you my political manifesto for a developed, prosperous and united Nigeria. Thanks for your audience and God bless Nigeria! 
EXPO FOR GENERAL BUHARI  
Hello your Excellency, Governor Amaechi. We need to see sir quickly to work out how to see Oga for an important expo. Who are you by the way? Sir, don't bother about my personality, the mission at hand is more important than that sir, let's just see, it's very urgent. Okay done.
General sir, congratulations on your recent victory. Thank you. So, what do you have for us? Good. General, many Nigerians today are fed up in the ways things are going in the country, hence they are seriously pushing for change in the governance. Sir, many of them are equating the Nigerian situation to 2008 US Presidential election, when the entire Americans were tired of the then ruling party, damned all consequences and voted Barrack Obama, whose the theme of his campaign was CHANGE, coincidentally which is the motto of your party – the APC. 
General Sir, see, you and your party Nigerians have concluded, have what it takes to be in charge of governance in this country. For instance, you have as a Director of your campaign organization an astute politician and great mobilizer, although his kinsmen accuse him of being arrogant, but that to a large extent is yet to be verified and confirmed. In your team, there is a veteran print journalist with an imposing clout (in the mass media industry) as your Director of Communication; your party is blessed, Nigerians are very much aware, with that prolific, very crispy and inspiring writer as its National publicist. Sir your opposition fold is enriched with a bold, rounded, grounded and grass root politician as its leader and largely blessed with Olori Oko (the main Chieftain), the master strategist, a focused, tireless and dogged fighter – the Nigerian Political 'octopus'. This is beside a long list of very dynamic, sound and brilliant brains, presently serving or not in your party. General, with all of these at your advantage, there is no doubt that you will give a good and keen contest to the incumbent. See sir, don't mind your opponent, they are aware about this and scared and may be pretending. Never mind them.
However, there is an issue in your party and that is about personal interest. Sir, if your party leaders can see and work beyond the personal agenda, you will give the country perhaps the most keenly contested Presidential election next year. Less I forget about the issue based campaign, give them a very close marking on this; they will be prompted to tarry along, on this, as ordinarily they might not want to. Never mind their accusation against your team on this aspect, they mostly carry the cross, but if they are seriously pre occupied, they will tell Nigerians stories different from their self-acclaimed successes. General, flaunt your party just launched action plan (manifesto) and let them do the same, thus the Nigerians decide and the world watches.
Thanks General, really appreciate your patience and attention. God bless Nigeria sir.
Haba aspirant T…you are a bad man O! What is it; what did I do? Why, you that stepped down for our President and voluntarily presented your manifesto to him, again went to the opposition's candidate and gave him an expo and tips on how to conquer the very candidate you back out for? You are a betrayal and an uncommon competitor, in fact, I don't even know how to describe you self.         
See, don't confuse yourself. The spirit behind my round the clock efforts is Nationality. My utmost business is to offer good and workable ideas to the candidate who had goofed to adjust, while I had to help out the incoming one, with proven pedigrees of delivery on how to make it. So, it is left for both of them and their parties to be wiser and honestly utilize the good and down to earth counsels given to them for their victory at the poll. Okay, I must agree with you. You have done a good job.Thanks, you are welcome.
Finally, what will not be acceptable to me is for anyone to make attempt, no matter how slightest, to truncate the aspired peaceful, free and credible elections to hold in Nigeria. President Jonathan, please, it does matter, aspirant T…stepped down and offered you his action blue print. If you or your party act in contrary of the credible election you have persistently promised (even till yesterday), in your Christmas message, I promise will join fellow Nigerians with goodwill for this country in deploying all possible BUT LEGAL means to oust that illegal government out of power. Then, to the opposition, no matter the level of support or public sympathy you may have, the game must be played to the letter. I think you should know that getting you out of the way can never be a big task to execute by a popular and constitutionally elected government if you try to mess up.
My Parting Shot 
Compliment of the seasons and happy New Year in advance to all. Wish Nigeria successful elections year.
E – Mail: tjaysuccess10@gmail.com; Facebook: Tajudeen Balogun.
Short URL: https://www.africanexaminer.com/?p=21030