Supplementary Elections Hold In Adamawa, Kebbi, Others
Featured, Latest News, News Across Nigeria
Saturday, April 15th, 2023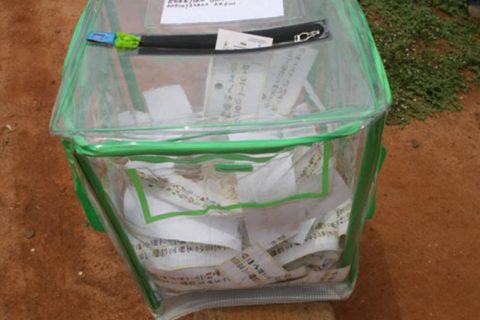 (AFRICAN EXAMINER0 – Thousands of voters are expected to hit the polls today as the Independent National Electoral Commission (INEC) conducts supplementary elections across 23 states.
On the heels of the February 25 presidential/National Assembly elections, and the March 18 governorship/state assembly elections, INEC fixed Saturday, April 15 for governorship, national, and state assembly supplementary elections.
In the Adamawa governorship poll, the incumbent Ahmadu Fintiri of the Peoples Democratic Party (PDP) polled 421,524, while the All Progressives Congress (APC) candidate, Senator Aishatu Dahiru, scored 390,275.
However, INEC state collation officer, Prof Muhammadu Mele of the University of Maiduguri, declared the election inconclusive due to the margin of votes.
Similarly, in Kebbi, the APC polled 388,258 votes as against the PDP's 342,980, leading the INEC Returning Officer in the governorship election, Professor Yusuf Sa'idu, to declare the election inconclusive.
He said violence, destruction of election materials, disruption of electoral proceedings, and over-voting played a role in the decision.
With both governorship elections having been declared inconclusive, all eyes will be on the two states, each of which has 20 local government areas (LGAs) participating in the second round of polling.
According to data made available on INEC's website, the Adamawa poll will take place in a total of 69 polling units (PUs) comprising 37,706 eligible voters, while in Kebbi, 142 affected PUs with 94,209 voters will participate.
Conversely, there are supplementary elections for five senatorial seats: Kebbi North, Sokoto East, Sokoto North, Sokoto South, and Zamfara Central.
In Kebbi North, a total of 13,243 voters in 23 PUs are eligible to participate in the exercise. In Sokoto East, there are 87,138 eligible voters in 169 PUs. Sokoto North has 115,266 eligible voters in 185 PUs, and Sokoto South has 85,022 collected PVCs across 156 PUs. In Zamfara Central, there are 83 PUs affected, comprising eligible 47,227 voters.
Likewise, the House of Representatives polls will be held in a total of 31 constituencies across 15 states, namely Akwa Ibom, Anambra, Bayelsa, Ebonyi, Edo, Imo, Jigawa, Kano, Kebbi, Kogi, Oyo, Rivers, Sokoto, Taraba, and Zamfara.
As for the state House of Assembly elections, a total of 59 constituencies in 17 states will be involved. They are Adamawa, Akwa Ibom, Bayelsa, Ebonyi, Edo, Ekiti, Enugu, Imo, Jigawa, Kaduna, Kano, Katsina, Kebbi, Niger, Ogun, Taraba, and Yobe.
Short URL: https://www.africanexaminer.com/?p=87090