Abuja Suburb Where Majority of Population Defecate In Open
Articles/Opinion
Tuesday, May 13th, 2014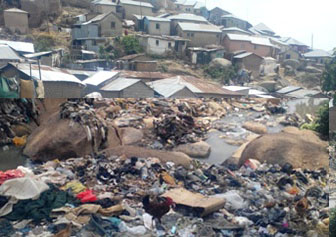 By Eric Ojo, Abuja
Benjamin Ubiri comes away hardly ruffled talking about a striking irony of Abuja. Behind the allure of expansive roads and rising buildings that make the Nigerian capital Africa's most expensive and one of the world's fastest growing, he admits, several poor communities live without toilets.
"It's bad, but not terrible," Mr. Ubiri said of one of the city's suburbs, Mpape. Yet, he adds quickly: "Human waste is a serious problem. Many of the houses are without toilets."
Set around rocks and monoliths, Mpape, a sprawling quarry community of over 12,000 people just a distance from Nigeria's presidential palace, is one of Abuja's outskirt towns where residents struggle to find a space to build homes, much less toilets.
"Because of the rock, people can't find space for houses not to talk of toilets," Mr. Ubiri, a journalist who lives in the community, said.
So, for those without a toilet, the routine is simple: convert everything, from old sewage pipes to polythene bags to roads kerbs, to one. More than 60 per cent of the population living in the suburb are affected by that shortage, leaving a serious health challenge.
Consequently, deaths from diseases such as cholera, dysentery, diarrhea, typhoid, as well as malaria are very rife within the community. Sadly, women and children are the worst hit. In April this year, there was a reported outbreak of cholera, which allegedly killed some residents.
Dr. Goji Sunday, Head, Health Department of the Bwari Area Council told journalists that his department was alerted about the disease by a Chief in the community and a medical team was quickly deployed there to handle the situation.
Dr. Sunday also confirmed that five patients of diarrhea and vomiting were discovered and taken to the health centre where they were promptly treated.
"We have mobilised our teams to the community, visited the chief and sensitised them on what to do and the need to maintain a higher personal hygiene. Structures are not properly planned, no good drainages, so you might have these factors that will encourage this outbreak of vomiting and diarrhea," he further disclosed.
Poor sanitary condition resulting from absence of proper human waste management facilities has haunted residents of Mpape, a suburb naturally endowed with rocky hills, for years. The low-cost settlement, a magnet for thousands of poor Nigerians and low-income earners, has all the compliments of a typical ghetto. Most of the houses lack toilets, water, electricity and other basic social amenities that make life worth living.
Aside from the deplorable sanitary condition, most of the houses are make-shift structures cramped together with little space that can only leave foot paths for residents to navigate their way in and out of their homes. In addition, there are no asphalted roads, and guideposts for non-residents and visitors to enable them find their way around the community.
Despite the absence of key social amenities, the community plays host to major road construction and civil engineering firms, which depend on its quarry. Julius Berger, a leading construction company in Nigeria, owns a quarry and a mini-estate for its junior and senior staff.
But of all the challenges, the rampant lack of toilet facilities appears the most critical health concern for the residents.
"Imagine a situation where human waste wrapped in polythene bags are thrown to the roadside and in every available space considered to be free  while some people have resorted to making good use of the rocky hills and mountains surrounding their immediate vicinity by defecating in the open," one resident, Charles Ogbogbo, said.
Mr. Ogbogbo said such behaviour clearly portrays the level of helplessness and frustration in the community.
"Whatever will make a man or a woman throw all caution to wind and defecate on a place as visible as a hilltop without caring a hoot, must be really grave," he said.
There are two residential areas in Mpape, the upscale, called Berger Quarry; and the slum, named Ajegunle, after the notorious slum of Lagos. Ajegunle takes about 60 per cent of the residential area.
The common toilets in the area for those who manage to have, are pit toilets that have serious health implications.
In the Berger Quarry axis, things are relatively improved with contemporary room apartments and bungalows.
A cross session of residents who spoke with African Examiner, expressed their worries over the poor sanitary condition in the community, noting that most residents have haplesslly resorted to defecating in the open because there are no clean and save toilets to use in the respective homes.
Lending credence to this, Mr. David Onyedika, a resident who lives in Mpape with his family of 4, observed that some people climb to the hilltops surrounding the community to ease themselves whenever nature beckons on them because they are scared of contacting toilet diseases from what pass as toilets in their houses.
In Nigeria, the challenge is not unique to Mpape as other suburbs and states across the country also suffer similar fate.
A recent report released by Water Aid Nigeria, shows that seven in ten women in Nigeria have no access to a safe toilet, with 40 per cent defecating in the open, thereby threatening their health and exposing them to shame, fear and even violence.
"In most rural communities in this country, people defecate in the bushes and other isolated places when they are pressed but here in Mpape, they do it atop the hills here because the bushes are very far off. And they consider it a safer option than the 'Shot Put' option where shameless people defecate in polythene bags or old newspapers and throw it on the roadside and gutters," Mr. Festus Ojokolo, another resident said.
Continuing, he said: "The act of defecating in the open has become almost a ritual here in Mpape. It has become a routine that some people indulge in at the wee hours of the morning and in the evening. At times they do it religiously as if it is a spiritual exercise.
"When you see people climbing to the hill tops in groups early in the morning here, a first-timer or a stranger, may probably be misled into thinking that they are climbing to keep fit but the reality is that they are going to answer nature's call up there".
Also in his reaction, Engr. Wole Oludare, a public servant and Landlord in the community lamented that people are made to suffer all manners of indignities when government fails to provide the basic infrastructure and create an enabling environment for a better living condition and welfare of the citizenry.
Engr. Oludare noted that the few basic social amenities in Mpape were put in place by the people living in the community. "Whatever you see here, the buildings, the roads, electricity, water bore holes, were made possible by hard earned resources of residents. Government has not done anything for us here," he stressed.
The Abuja Environmental Protection Board, the body responsible for sanitation in Abuja, said the Board is poised and determined to address environmental sanitation challenges within the city centre.
A spokesperson however said Mpape is under the supervision of a local authority, Bwari council.
"Issues of waste disposal of any form in the city centre, is well taken care of. So it is not an issue at all. Abuja is very clean. 21 contractors are hired by government to do the cleaning. We are on top of it within the metropolis," Sam Musa, the spokesperson, said.
But officials of the Federal Capital Territory Administration argue that Mpape was not a residential location before it was swooped upon and taken over by some desperate Abuja residents in dire need of affordable accommodation.
They say the area was initially earmarked as farmlands for the indigenes but they later started selling it to folks who in no time erected buildings in all available spaces without valid documentation.
Incensed by the sorry state of affairs in Mpape, the Development Department of Abuja Metropolitan Management Council (AMMC) had once threatened to embark on a massive demolition of illegal structures in the area but it was defiantly resisted by the residents who later secured a court injunction and the intervention from the Attorney General of the Federation and Minister of Justice, Mohammed Bello Adoke to halt the process.
Short URL: https://www.africanexaminer.com/?p=11303