It Hurts To See Policemen Maltreating Journalists -Adewale Giwa
Featured Contributors/Columnists, Interview, Latest News
Tuesday, September 9th, 2014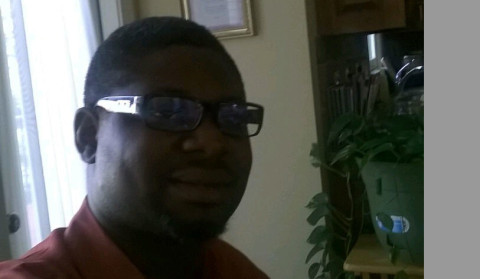 Adewale Olanrewaju Giwa is a United States correspondent of Daily Newswatch Newspaper. In this interview with in Washington, DC, the Nigerian -born journalist expressed his mind why some journalists are being treated unjustly by policemen in Nigeria while discharging their duties and others.
Excerpts
Can you tell us about your experience since you have been a correspondent in the United States compared to when you were in Nigeria?
Actually, I started journalism profession with a local Newspapers "Today' s News" 13 years ago. After working for years, I joined "Sunshine Express" newspaper owned by former Senator Omololu Meroyi in Akure, Ondo State. I was later employed in 'FRESH FACTS', a National Newspaper, as Ondo State Correspondent before I moved to the NEXT, Daily Trust and now Daily Newswatch as United States correspondent. Initially, when I came down here, I faced many challenges that had to do with housing accommodation and others. As you know that it's always difficult to quickly settle down when changing environment, most especially where you don' to have any of your family member. However, the Grace of God enabled me to triumph. Here, It is my belief that no matter how difficult the situation is when you believe in God, you will laugh last. It may take long but, with perseverance and patience you succeed at the end. It has been very tasking travelling from one city to another, one state to another to cover news events. The United States is large in terms of geography and moving from one point to another such as going from Newark, New Jersey to Atlanta, Georgia is physically and mentally challenging. Meanwhile, in Nigeria, I was assigned to one state and I was restricted to covering events in just that state. The travelling I engaged in Nigeria was nothing compared to the Unites States of America. I must admit that I am enriching my journalistic fabric through my travels.
Briefly tell us your educational background?
My educational background is very similar to the average person. I attended St. Martin' s Primary School, Akure. Thereafter, I attended Secondary School and onto the University of Ilorin to study Political Science but later went to the University of Jos to study Mass Communication.
Considering the fact that journalism profession is not effectively practiced as before, what do you think is wrong?
It is a fact that majority of the newspapers is being controlled by politicians in Nigeria. In a situation like this, what do you expect? It is not because I am defending my organisation but we are totally different from others. My Managing Director does not give room for unprofessionalism. If you write an investigative report that is genuine, the report gets published, period. We are well refined and trained. However, in most cases, reporters are forced to compromise their stance because of influence from the owners of the papers. For instance, a reporter sees a true story which might be against the owner of his organisation and writes a report on it. Such a report usually does not get published because of owner bias or influence. A situation like the aforementioned scenario, will continue to hinder the effective discharge of the journalism profession. Honestly, politicians have hijacked the journalism profession in Nigeria. They have taken over all the nooks and crannies of the profession. You hardly see a National Newspaper that is not owned either by present or past governors/Presidents of Nigeria. Also, there are some junk journalists in the streets of Nigeria who don' t actually know the dos and the don'ts of the profession and they write by their own rules. This factor is also considered to be affecting the profession. Above all, brutality in my opinion is the greatest threat to journalists who are passionate about their jobs. Journalists suffer from frequent violent and brutal attacks in the process of reporting news events. There is no adequate security for journalists not only in Nigeria but across the globe. Just of recent I was reading a story in which journalists were beheaded in a country just because there were trying to give the public information. So, government at all levels should address this and find ways to protect the lives of journalists. Journalism is a tedious profession that requires protection. It hurts to see the police, a unit of the government, harassing and beating up journalists instead of treating them with simple courtesy. I am hoping that the police in Nigeria will change their orientation on this.
How have you been doing your job effectively in United States without being influenced by anybody?
It is not always easy to be objective but I owe it to the public to do just that. I work hard to report the opinions of people as stated in my interviews even when they contradict my views. Honestly, it is much easier to be objective here in the United States because there is no fear of political repercussions or other implications. I am not politically affiliated to the many factions here and all I do is report news events exactly as they unfold. This way, I give my readers the opportunity to draw conclusions based on their interpretation..
As once a political science student, do you intend to go into politics in the nearest future?
According to Aristotle definition of Political Science. He says," It is a Social Science discipline concerned with the study of the state, nation, government, politics and policies of government". So, political scientists use both human and scientific perspectives and tools and a variety of methodological approaches to examine the process, systems, and political dynamics of all countries and regions of the world. The world-renowned Greek philosopher Aristotle also described politics as the "queen of the sciences". For us, the scientific/systematic study of politics is not simply about understanding and exercising power and authority. As citizens – national and perhaps global – we also learn about democratic rights and how to hold leaders accountable for what they do. The study of politics is thus not simply about turning you into a politician but more about teaching you to become a critical thinker, which, in turn, prepares you for a large variety of promising career options. Few students who study to become political scientists become politicians. This does not mean that they should not consider this career option if that is their passion. The point is that those who study politics get the type of training that prepares them for numerous job opportunities. As a student of politics, you learn more about how to become a thinker and a professional than many jobs require; above all else, you learn to become an active and responsible citizen. As of now, I have no interest of going fully into politics.
One may think you are related to the Nigerian Journalist, late Dele Giwa, who was killed by a mail bomb in his home on October 19, 1986, what is your take on this?
Smiling….I never relate to the late Dele Giwa. I come from a royal family in Ikare -Akoko area of Ondo State.
What is your advice to your colleagues?
My advice to them is to continue to keep the focus on "objective news reporting." Journalists are very instrumental in bringing light to the myriad of situations that occur in the dark. The information they provide is very pivotal to human growth across the universe. I am proud of the profession and my colleagues in the Diaspora.
Short URL: https://www.africanexaminer.com/?p=17237