Opinion: On Mimiko's Comment On Politicians
Articles/Opinion, Latest News
Friday, October 30th, 2015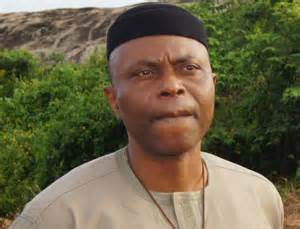 By Adewale Kupoluyi
The Ondo State Governor, Dr. Olusegun Mimiko, recently decried the tag ascribed to Nigerian politicians, stressing that while many Nigerians perceive them as rogues and vagabonds, there are still intellectual politicians among them, who offer selfless service to their fatherland. Mimiko made this comment during the public presentation of a book, "Serving My Fatherland", written by a former Minister of Education, Professor Tunde Adeniran, at the International Conference Centre, University of Ibadan, Oyo State, as part of activities mapped-out for the 70th birthday celebration of the former minister.
According to the Ondo State Governor, it was important for 'intellectual politicians' to document their experiences in politics and governance so that the people could change their mindsets in appreciating who truly a politician is. "I am here because I am excited about the personality of Professor Adeniran, not only as an intellectual but also as a politician. It is important for the intellectuals in politics to document their experiences. There is this demonic characterisation of politicians in Nigeria. Politicians are seen as vagabond, rogues and so on. The only way to stop this and correct this impression is for those who have served to document their experiences in politics so that Nigerians will also know that there are still many men of honour in politics; people who offer selfless service to their fatherland".
Mimiko, who is also the Chairman, Peoples Democratic Party (PDP) Governors' Forum, added that "many intellectuals are armchair critics but it is very important to have intellectuals who have taken part in politics. They must have gone through the everyday challenges that politicians face so that they will know that it is possible to mix the two. Every politician does not have to be an intellectual but every politician must drink from the knowledge of the intellectuals, like Professor Adeniran".
From media reports that covered proceedings at the book presentation, the observations raised by Mimiko on people's perception of Nigerian politicians can be summarised into four major points: First, that politicians are not well respected but are seen as 'vagabonds and rogues'. Secondly, that this impression is not correct. Thirdly, that there is the need to change such a perception. Fourthly, that there is the need for people to learn from the documented and good works of politicians, for posterity. While I agree with the governor on some of his observations, what would equally be of interest to the nation is identifying the causes of this 'demonic characterisation of politicians in Nigeria' with a view to finding possible solution to the issues raised.
But before we do that, it will not be out of place to revisit the definitions of the three main words of 'vagabond', 'rogue' and 'intellectual'. Relying on simple definitions provided by the "Macmillan English Dictionary for Advanced Learners (New Edition)", a vagabond is someone "with no home or job who travels from place to place"; a rogue is "someone who behaves badly but is still liked by other people", "… (someone who) does not behave in the same way as its other members and is considered dangerous or likely to cause problems …" while an intellectual is a person "who is well educated and interested in arts, science, literature … at an advanced level".
As we all know, politicians are not spirits but members of the society like you and I. They are from human families and are also products of the same society, which invariably determines the nature and the characteristics of human beings and social institutions interacting therein. The politician is influenced by the society while what becomes of the same society is equally a function of the genre of its political class and elite that shape its affairs. Today, the nation is riddled with the problems of moral decadence, declining value system and acute corruption.
That is why it is easy to ascribe our politicians' traits to these problems because they constitute an integral part of the Nigerian society. That is why our political landscape thrives with do-or-die politicking. That is the reason why deceit and telling of lies are considered normal. That is why god-fatherism is still the order of the day. That is why it is not a big deal to carpet-cross as many times as possible from one party. That is why money politics cannot be wished away just like that. That is why rigging and malpractice remain difficult to stamp-out from our polity.
It is because of the reasons adduced above that many decent people shun going into partisan politics in Nigeria. The usual saying is that if you cannot beat them, you join them and that is where the demarcation comes in. Rather, those with 'strong heart' that find it easy to make waves in the political terrain while those that are reluctant in soiling their reputation, compromise their integrity and credibility avoid partisan politics like a plague. Even the best crop of intellectuals turn into something else when they enter into Nigerian politics because they become changed persons and even tossed-around by less educated party stalwarts. A close friend once told me point-blank that I can never be a good politician because he was expecting me to churn-out out lies as a response to a genuine inquiry. I quickly let him know that you do not need to be a liar to become a successful politician. Afterall, politics is about consensus building, lobbying, consultation and bargaining, which are no lies or deceit but pure political communication tools!
Hence, people may not benefit much from the experiences of intellectuals in politics if their lives are not touched positively by them in terms of good governance. Unfortunately, I don't see the trend changing for now until and unless the right things are put in place that would make political game very attractive to those classified as decent people. To begin with, the problem of acute unemployment pervading the country has to be tackled head-long. When this is done, many people would have been gainfully employed thus limiting the number of idle-hands available to play dirty politics.
Secondly, perks of office should be minimized so as to get genuine people to serve. For now, one of the easiest and fastest routes to making big money in the country is through politics. Many people go into politics not to really serve but to acquire wealth. Thirdly, societal demands from public officers should be drastically limited. As I have argued severally, the level of corruption would be reduced when political office holders are less inundated with litany of demands by family members, friends, colleagues and other acquaintances. There should be proper electoral reforms that would not make vying for elective posts exorbitant such that only the rich determine who becomes what while electoral offenders should be severely punished according to the law.
No doubt, there are many Nigerians that have distinguished themselves on the political turf. They were able to achieve this feat because of sheer discipline, contentment, good conscience, patriotism, sound moral principle and sincerity of purpose. Hence, public position to them is noble, charitable and a call to service. Till date, great politicians and nationalists like the first Governor-General of the Federation of three Regions, Dr. Nnamdi Azikiwe; first Premier of Northern Nigeria, Sir Ahmadu Bello; first Premier of Western Nigeria, Chief Obafemi Awolowo, and the first Premier of Mid-West Region, Dr. Dennis Osadebey, remain revered because of their legacies and unbridled loyalty to their fatherland. There are still some of such great people in our nation today but the present political climate is highly discouraging and unpleasant to breeding honest, disciplined, patriotic, honourable and committed leaders.
As a way forward, the enabling environment that encourages patriotism, selfless service and nation building – that would make it almost impossible for the so-called vagabonds, rogues and misfits to dominate our political life – should be nurtured and institutionalized. The task in not before politicians alone but that of everyone. This should be a mission that should be accomplished in the quest to have the ideal nation that we dream of; where our politicians would epitome the symbol of real statesmanship desired by all.
Kupoluyi writes from Federal University of Agriculture, Abeokuta (FUNAAB), adewalekupoluyi@yahoo.co.uk, @AdewaleKupoluyi
Short URL: https://www.africanexaminer.com/?p=26858