ANALYSIS: Government Policies And Public Cooperation; Between President Buhari And Jonathan
Articles/Opinion, Featured Contributors/Columnists, Latest News
Friday, May 20th, 2016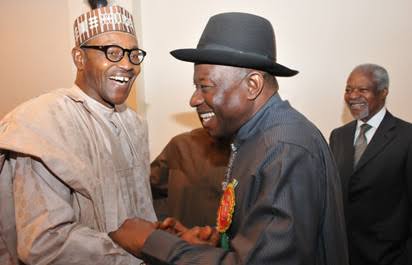 By Tajudeen Balogun, Head, African Examiner, Nigeria Bureau
Many of the unfolding events relating to Nigeria in the past few weeks – happening within and beyond her (Nigeria) shore, have given the meticulous ones and critically-minded individuals an opportunity to do an in-depth analyses and comparison of the difference between the immediate past President Goodluck Jonthan and his successor, President Muhammadu Buhari as well as their administrations.
Specifically, my focus is on distinct dissimilarity in the policies of the two administrations; the public perception; trust and cooperation with them. One very clear point is that the present government, unlike its immediate predecessor is supported more by members of the public. But the compliance did not just come, rather, has often been linked to the undisputable pedigree (integrity) of the man presently in the saddle.
Last week, one issue of public interest and which inevitably enjoyed local and international mass media reportage and comments was the United Kingdom (UK) Prime Minister, David Cameron's outburst when meeting with President Buhari in London declaring that Nigeria was "fantastically corrupt".
Of course, it is no more news that PM Cameron in his (only God knows the motive) comment, audaciously ranked the most populous black nation, alongside Afghanistan in corruption profile. The remark was indeed a sad story. But in actual fact, in as much as the statement might appear reckless, still, it was a bitter truth; a reality every sincere Nigerian must face and admit (at least for now).
It is about taking pains to face the truth that informed the choice of a blunt and down-to earth ("I demand no apology from anyone" rather, 'repatriate our stolen money') response, by the Nigerian President. It is interesting that many have commended Buhari's candid reply, which they described as very audacious, courageous and "Presidential". This is one of the differences between former President Jonathan and his successor.
If Cameron's jab were to be thrown during Jonathan's tenure, his Ministers; party men and media aides would have resulted to 'shadow' and obviously weak defence and 'panel beating'. I agree that a member of an administration has an obligation to ensure its success, including making of regular public communication, such as clarifications; confirmations and putting up reliable defence when necessary.
So, if a government which claimed to be for the prosperity of all Nigerians would dissipate so much of energy in disputing accusation of corruption against it, when indices were abound to take the point home, can such administration be taken seriously; be held in confidence and trusted? Good, if your answer is as simple as mine.
I recall on November 11, 2014, when the former President Jonathan in his acceptance speech, after being cleared by his party to re-contest the 2015 Presidential election, claiming that the "…national food production has expanded by an additional 21 million metric tons between 2011 and 2014.
According to him, the record has exceeded the target of 20 million metric tons set for the year 2015. Former President Jonathan also claimed that food import bill has declined from "N1.1 trillion in 2009 to N684 billion by December 2013, representing 40 per cent slash. But despite these allusions, Nigeria has remained one of the most importing nations, needless to lament here that the situation is so regrettable, that the country also imports tooth mere pick! So how do we reconcile here – about the claims on drop in importation level?
Also, the former Finance Minister, Dr (Mrs) Ngozi Okonjo-Iweala committed similar slip. Dr. Okonjo-Iweala just like the just suspended Brazilian President, Ms. Dilma Rousseff, who allegedly manipulated finances of her country to cover up a growing public huge deficit, ahead of her re-election in 2014, spearheaded a fraudulent economy rebase, after which the so called 'self-acclaimed' biggest and best economy in the continent rating followed! Such a 'calculated' and misleading ranking will never stop to receive condemnation and be a subject of debate and ridicule of a sitting government.
How can one claim to run a biggest economy, amidst poor power generation, a worrisome situation that has crippled industrial activities and made social life miserable? Why should one talk about a healthy economy without visible capital development; massive rate of unemployment and sadly, large scale of corruption in the public sector?
This, among other instances, are the facts those who argued today that the variables in the plan to remove fuel subsidy in 2012 and the success of Nigeria Labour Congress (NLC) nationwide strike that followed are very different from the latest new pump fuel price policy; the NLC strike and poor response of the masses to it.
In other words, Nigerians refused to support the fuel price hike by former President Jonathan, majorly due to mistrust. His (Jonathan) administration was sworn-in May 29, 2011. The question which many Nigerians were asking then, was that: what have been the benefits of the previous subsidy removal? They cited cases of many sharp practices within the downstream sector of oil and gas industry which the previous governments (including the last) have failed to check.
We can as well ask were Nigerians right or wrong to have resisted the 100 per cent removal of fuel subsidy in 2012? Could they have been wrong when in the end, the so called palliative measure crafted under the Subsidy Empowerment Programme – SURE-P, ended up to become another big fraud?
I once wrote on the corruption and impunity being perpetrated under the scheme last year and a furious reader sent a nasty e-mail to me, debunking my position. But where are the able bodied; jobless male and female university graduates made to pay certain amount of money; camped in the expansive yard at the 7-Up end of the old toll gate in Lagos and promised non-existing employment today? Regrettably, it was the same former Finance Minister, Dr. Okonjo-Iweala, who spearheaded the failed social intervention measure – SURE-P.
Who will believe a government with a fraudulent past like this? If you argue that the SURE-P scam happened after Nigerians rejected the removal of the fuel subsidy; then I put it back to you that the former President's party (now the first opposition) has deep corruption history and records against it, within its 16 years in power, so, this and many other factors worked against Jonathan's plan – complete subsidy removal then.
If you want to make claims, make those that are genuine, tenable and defendable. I have heard some people saying they were waiting for President Buhari on May 29, when his government will mark its first Democracy day anniversary, to come and do the listing of success of his administration in the last 365 days.
Well, I have no obligation to do that anyway. Still, if for instance, PMB tells the world that, in the last 12 months, his government has won the battle against Boko Haram terrorists, who would fault that? If he credits his government to have successfully sent strong signal that the war against corruption in the public sector is for real? Will anyone say that is a deceit, especially when all the alleged 'thieves' were presently struggling on how to be let off the hook of the various corrupt cases against them?
What about the Senate President, Bukola Saraki's Code of Conduct Tribunal (CCT) ongoing false assets declaration trial? President Buhari and Saraki belong to the same party, yet, his court case lingers. Can anyone dispute that Saraki's trial would have been aborted, judging by the old tradition of the government in Nigeria? Didn't former President Jonathan claim his government was on top of its duty to crush Boko Haram terrorists? Did the government act her talk, giving the extent the insurgents reached in their attacks and losses recorded? Didn't former administration claim to be fighting corruption while in power, yet the annoying and killing alleged cases of corruption against the same government? I believe Nigerians know the exact answers to these questions.
Giving the mentioned facts, it is obvious why Nigerians cooperate with the present administration, a situation that subsequently signaled the failure of the latest nationwide strike called by the NLC. The over 80 per cent fuel price hike is of course shocking; sudden and very expensive, giving the current poor state of the economy in the country. Still, the cooperation Buhari's administration is enjoying and the reasons for the Labour's strike flop are largely due to the President's past.
Interestingly, I have listened to many pro-Buhari personalities who have strongly faulted the new price regime of fuel, therefore demanding for explanations on wisdom behind it. It is equally amusing to hear the same people, affirming despite their opposition to the new price, their support to Buhari and his government will remain. The submission of many is that "we all struggled" to put this government in power; therefore, we cannot afford to make it fail.
It is also important that supporters, in particular of former President Jonathan, realize that their man was not really hated as a person by Nigerians who voted him out of power; rather the issue against him was lack of dexterity and will "to be in control" of his government. Which is the reason why, so many frauds and sharp practices thrived under his watch, also many security gaffes? But the fact still remains that he (Jonathan) takes responsibility for all the alleged stealing during his tenure, forget about whether he knew about them or not.
The 'Jonathanians' should begin to listen carefully and very well to the members of the public, even the die-hard and passionate supporters of President Buhari on his policies; the approaches of his administration; the government's transparency and ability to deliver on his electoral promises. They have said and vowed repeatedly, that they will not leave the government alone and will not hesitate to vote the party out just as they did to the former ruling party, if Buhari failed them and dashed their hope!
Finally, President Buhari in view of many advantages he and his government currently enjoy, must never be complacent over the distinct differences between him and his predecessor and his humble achievement. Instead, Mr. President should continue to strive and ensure that his government is closer to the people; be more transparent; responsive and passionate about their basic needs. As for the supporters of the former President, it is important they change their mentality; stomach the bitter loss of their man; support the present government by offering laudable suggestions, if they seriously feel like, as well as make constructive criticism, whenever such is necessary. Engaging in absurd debates and making unfounded accusations is not and can never be the way forward. Nigeria belongs to all of us. We must stop pretending that all is well with us; therefore, all hands must be deck to give Buhari the deserving time for a better tomorrow. Happy Democracy day in advance!
E-Mail: tjaysuccess10@gmail.com; Facebook: Tajudeen Balogun; Twitter: @tjaysuccess10
Short URL: https://www.africanexaminer.com/?p=32837